Here is one of our favorite math ideas. It reinforces all the major topics. It allows us to modify the review based on student needs. For example, my kids are struggling with hexagon so that has been our Shape of the Day often. Also, our students are required to describe a shape. After drawing a shape, I always ask a few students to tell me about that shape. It has been so awesome! For Addition Problem of the Day we have changed it up daily too. Some of the different ideas we have are counting syllables, vowels, consonants, tell story problems, counting letters in words, etc. There are so many variations. We have thought about changing it to a Subtraction Problem for April after the concept is taught. I hope you enjoy it as much as we have!
One last thought, the first month we made a monthly packet and stapled together for each student. The 2nd month we punched holes and placed in folders. It allowed the students to find the next page much easier!
Thanks to Eberhart's Explorers for the inspiration!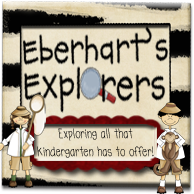 "/>